Discover the origins of Independence Day, interesting facts and traditions surrounding this holiday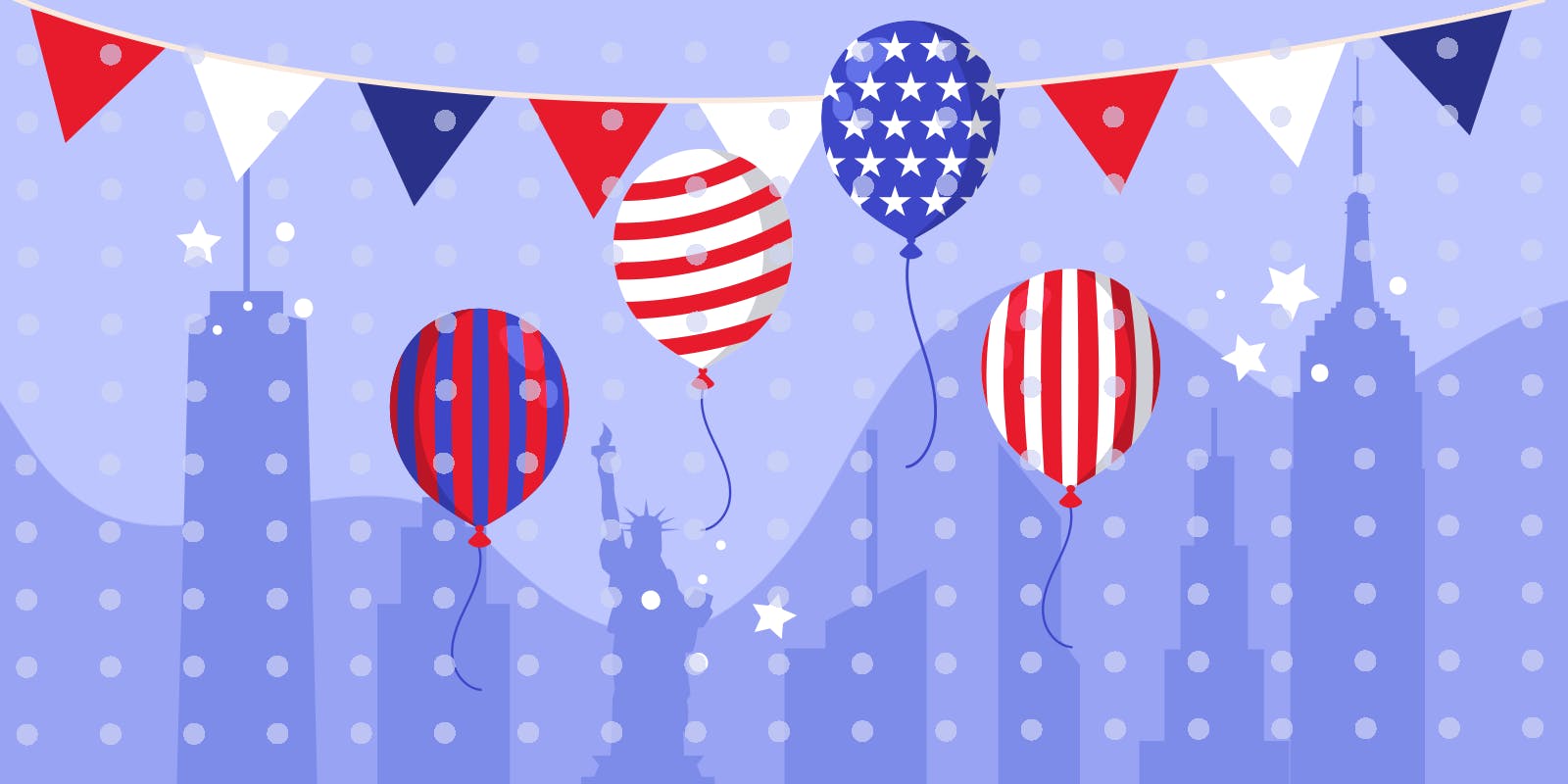 Origins of Independence Day in the US
The fourth of July, or Independence Day, is a special day for American citizens. It memorializes the time when the American Colonies declared their independence from Great Britain, and forged a new country. For most Americans, the day is celebrated with friends and family at gatherings as small as a backyard or as large as a city-wide festival including concerts and large fireworks displays.
The 4th of July is a celebration of the "birth" of the United States of America. Many people celebrate by attending baseball games, parades, hosting family reunions, attending ceremonies in their cities or towns, attending concerts, and fireworks displays. Many families will purchase fireworks to set off during their family barbecues and celebrations, in addition to attending larger, city-wide fireworks displays. In many cases these displays are set to patriotic music. Some popular songs to set fireworks displays to include:
The Star Spangled Banner by Francis Scott Key
We Will Rock You or We Are the Champions by Queen
Firework by Katy Perry
Ode to Joy by Beethoven
The 1812 Overture by Tchaikovsky
Born in the USA by Bruce Springsteen
Semper Fidelis by John Philip Sousa
Ride of the Valkyries by David Moore
Pomp and Circumstance March by Sir Edward Elgar
Chariots of Fire by David Moore
What really happened on July 4, 1776
Independence Day in the United States is a federal holiday, meaning most people have a day off from work. This day celebrates the Second Continental Congress ratifying the Declaration of Independence. This document declared the original 13 U.S. Colonies as free from Great Britain's rule, and no longer subjects of King George III. The Second Continental Congress voted to approve the Resolution of Independence on July 2, 1776, and then on July 4, 1776 voted to approve the official Declaration of Independence.
The Declaration of Independence was written by five members of the continental congress, less by Thomas Jefferson, who is credited as being the principal author of the document. However, only a few historical figures actually signed the Declaration on July 4, 1776. Those signatures including Thomas Jefferson, Benjamin Franklin, and John Adams; most of the other signatures were added to the Declaration on August 2, 1776, nearly one month after the Declaration was ratified.
Interesting July 4th facts
Many of the founding fathers believed that July 2 would be the day when American's would celebrate the country's founding, as that is the day that the Resolution of Independence was voted upon. However, the date the Declaration of Independence was voted up on instead as the day of celebration. Here are more interesting 4th of July facts:
The Resolution of Independence, voted upon on July 2 and which led to the Declaration of Independence on July 4, was written by Richard Henry Lee of Virginia
The Declaration of Independence was written by the Committee of Five, including Thomas Jefferson, John Adams, Benjamin Franklin, Robert Livingston, and Roger Sherman
Roger Sherman is the only Founding Father to sign all four United States papers: the Resolution of Independence, the Declaration of Independence, the Articles of Confederation, and the Constitution
Calvin Coolidge is the only U.S. President to be born on the 4th of July (1872)
Three U.S. Presidents have died on the 4th of July – James Monroe (1831), Thomas Jefferson and John Adams (1826)
Both Jefferson and Adams died on July 4, 1826, which is the 50th anniversary of the signing of the Declaration of Independence
4th of July traditions
Patriotic displays are one of the biggest 4th of July traditions. These displays might including red, white, and blue bunting hanging over porch rails on homes or businesses, flags displays at homes and throughout cemeteries, especially veterans' cemeteries, and even at concerts and festivals where grandstands will be decorated with red, white, and blue flowers, bunting, and even flags.
Firework displays are one of the major draws of patriotic events throughout the United States. Professional baseball teams playing on Independence Day will typically include a fireworks display at the end of the game, towns and cities will have firework displays from a central location, and other large events like concerts will have large firework displays which are typically set to music.
The largest firework display is found in New York City and is sponsored each year by Macy's Department Store. The display is typically held over the East River. Other large displays include Lake Union in Seattle, Mission Bay in San Diego, and the Charles River display in Boston.
Another July 4th tradition is travel. Because the 4th of July falls in the middle of the summer months, and includes a "free" vacation day the week of July 4th is typically one of the busiest travel months of the year. Families will travel together to attend family reunions, go for a beach vacation, or to attend a large concert or gathering to celebrate the fourth of July holiday.
How to celebrate 4th of July
Most Americans choose to celebrate the fourth of July with food, family, and fireworks. Some will celebrate with large family reunions that include 100-200 people, but others will keep their reunions smaller, with only 20-50 people in attendance. These celebrations will include barbecues, side dishes like potato salad and deviled eggs, and desserts include cake, fresh fruits, and homemade ice cream. If you can't be with your family in person, you can send 4th of July ecards to let them know you are thinking of them and miss them. You can learn how to write the perfect July 4th ecards in just five minutes and even make your own fourth of July ecard free.