From dazzling fireworks displays to backyard barbecues, the 4th of July offers a plethora of ways to celebrate America's independence. Whether it's enjoying a patriotic parade, hosting a picnic in the park, sending ecards, or reflecting on the nation's history, there's something for everyone on Independence Day.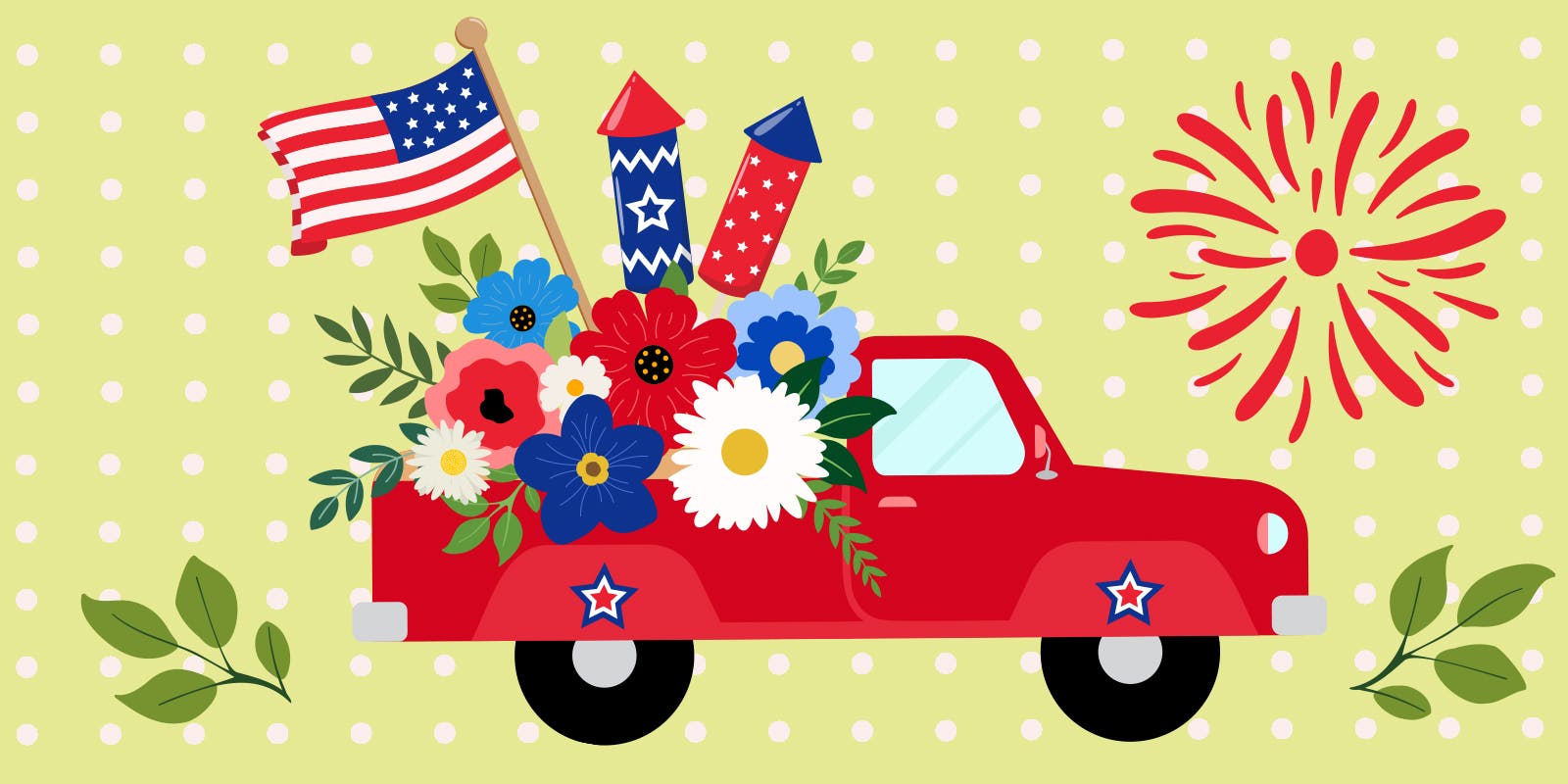 Why Americans Celebrate the 4th of July
In the United States, Independence Day is a celebration of our independence from Great Britain. It is a commemoration of the signing of the Declaration of Independence by the original 13 colonies, declaring themselves to be free from British rule. 
The Declaration was written by Thoman Jefferson and signed by the leading statesmen, including Benjamin Franklin and John Hancock. The Declaration outlined the ways the colonists felt unrepresented and mistreated by the British crown, and further outlined the ways they wanted to be free - by stating their rights to life, liberty, and the pursuit of happiness. 
The Fourth of July became a national holiday in 1870, nearly 100 years after the original signing in 1776. Since then it has been celebrated in many different ways. Here are 10 ways to celebrate the Fourth of July.
Five Ways to Celebrate the 4th with your Family
For many Americans, the 4th of July is a time to come together with family and friends, especially those you have not seen in many years. A lot of American families host Family Reunions over the 4th of July holiday. Here are five things to do at your family get together this 4th of July:
Host a bar-be-que - Gather loved ones for a classic American barbecue, complete with grilled burgers, hot dogs, and all the traditional sides. You could do this at a local park or in your backyard. You could also include a potluck element by having different people bring different types of dishes - from special sides to salads, desserts, and even special themed drinks for the celebration. 

Plan outdoor games - if you have a swimming pool, pool games like water volleyball or basketball are fun, but for smaller kids a game of Marco Polo can add excitement to the day. You could also play yard games like Corn Hole, football or even soccer. 

Create a fireworks display - If you're unable to attend a professional fireworks display, you can still create a mini fireworks show of your own. Purchase legal and safe fireworks from authorized sellers and follow all safety guidelines. Find a suitable outdoor location, invite friends and family, and enjoy the colorful bursts of fireworks to celebrate the occasion. Remember to adhere to local laws and regulations regarding fireworks usage.amphitheater or ball fields. Many will sync the fireworks to patriotic music broadcast by a local radio station. Don't forget a cozy blanket or lawn chairs so you have a comfortable place to sit. 

Host a patriotic movie night - there are a number of patriotic or inspirational movies, some themed around the American Revolution or big events that helped to shape our country. Invite friends over, pop some popcorn and enjoy the show!
3 Places to Visit over the 4th of July holiday
If you're an adventurous sort, you may want to take a weekend trip to celebrate the holiday. Many people choose to visit national parks like Yellowstone or the Grand Canyon, but there are many other places to visit over this patriotic holiday. 
Mt. Rushmore - Many American want to enjoy the outdoors during the hot months of summer. This makes Mt. Rushmore the perfect place for a 4th of July getaway. Mt. Rushmore is the largest stone carving in the US and features several great American leaders. You can take an RV or tent and enjoy camping. They have a large fireworks display over the 4th of July each year. 

Philadelphia - the City of Brotherly Love draws many people to visit each year, but the 4th of July can be especially inspiring as you can take a tour of many locations that were important to our independence - you could visit the Liberty Bell, Independence Hall, and the National Constitution Center are three places where you could learn more about our revolutionary past. 

Attend a large concert - Nashville, Boston, and Washington D.C. have large fireworks displays and concerts each year to celebrate the 4th. In D.C., you'll celebrate in the nation's capital with the "A Capitol Fourth" concert on the West Lawn of the U.S. Capitol, followed by a magnificent fireworks display. In Boston, the Boston Pops Fireworks Spectacular on the Charles River Esplanade, featuring live music and a breathtaking fireworks show. Finally in Nashville, there is the Music City "Let Freedom Sing!" concert and fireworks show.
2 Ways to Be Together over the 4th of July
Most people want to celebrate the 4th of July holiday with family and friends. Here are two more ways to celebrate the 4th of July: 
Attend a community event - Check your local community for 4th of July events such as parades, festivals, or concerts. Many towns and cities organize family-friendly activities, live performances, and games to commemorate the holiday. Joining these events can foster a sense of community and add to the festive spirit.

Send a 4th of July ecard - If you can't celebrate with your loved ones, you can still be together over the 4th of July by sending a 4th of July themed e-card. You'll find a variety of patriotic themed cards here or you could create your own card by using a favorite photo or image that you own.
If you're unsure what to write, here are a few tips: 
Start with a Warm Greeting: Begin your Independence Day e-card by addressing the recipient in a friendly and celebratory manner. You can use phrases like "Happy 4th of July!" or "Wishing you a joyful Independence Day!" to set the festive tone right from the beginning.

Express Your Patriotism: Share your love for your country and the significance of the 4th of July in your e-card. Highlight the values of freedom, independence, and unity that make this holiday special. You can include a brief reference to the history or the importance of the day to add depth to your message.

Add Personal Touches: Make the e-card more personalized by including specific memories, traditions, or experiences you've shared with the recipient related to the 4th of July. It could be a heartfelt story, a funny anecdote, or a shared appreciation for the holiday. Adding personal touches will make your e-card more meaningful and memorable.
Remember to keep the tone positive, heartfelt, and inclusive in your e-card. Use engaging language and be mindful of the recipient's preferences and beliefs. With these tips in mind, you can create a thoughtful and enjoyable 4th of July ecard to share your warm wishes with your loved ones.