St. Patrick's Day is the perfect time to make crafts with the children in your life. Here are some simple and fun ideas to try!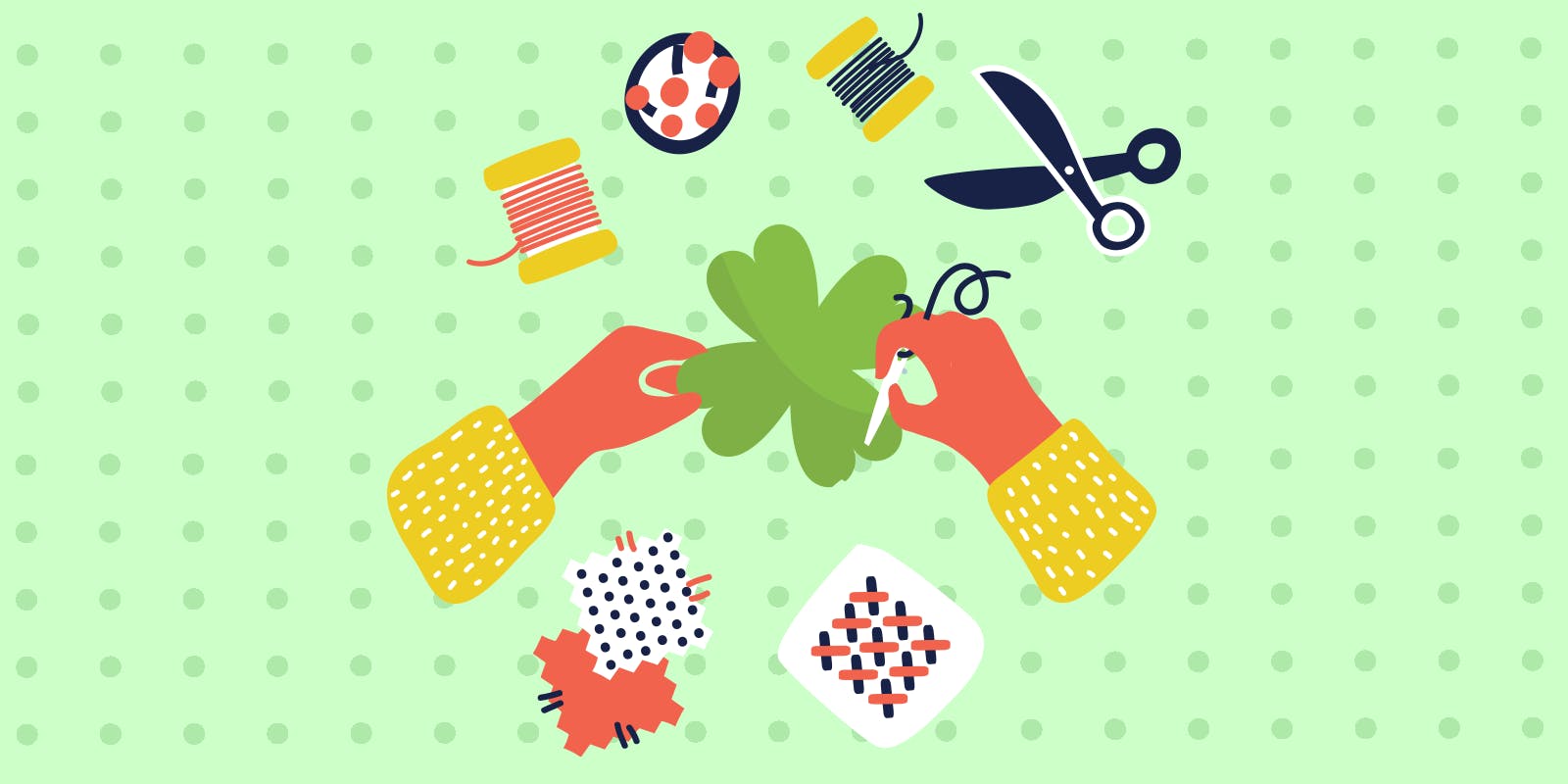 Looking for a unique way to celebrate this St. Patrick's day with kids? Try crafting! It's a wonderful way to get the whole family involved and make happy memories. Plus, once you are done, you'll have a lovely keepsake that will help you decorate for years to come. Test out some of the crafts below this year – you can even try a few different ones and make stations if several kids are joining in the fun.


Silly Shamrock Faces – 

Kids will love personalizing their own little shamrock to hang on the wall. You can either trace shamrocks onto construction paper and cut them out or buy pre-cut shamrocks at the craft store. Then get lots of accessories like glitter glue, colorful markers, and stickers. Encourage the kids to make a few different happy shamrocks to hang in their rooms or tie strings to the tops and dangle them from the ceiling.

Cute Customized Cards – St. Patrick's Day is the perfect time to send a card and remind the people in your life you're thinking about them! Having kids customize cards with little shamrocks and leprechaun drawings makes those cards even more special. You can even send a Patrick's Day ecard or take a picture of their art and make a custom ecard with the photo.


Fabric No-Sew Wreaths – Some crafty adults find themselves with lots of fabric scraps lying around. If you don't have extra fabric in the right colors, just go to a craft store and pick up a few pre-cut scraps. Typically, when there's extra fabric at the end of the bolt, the store will bundle it with others and sell it for a discounted price. Get a few in green and gold to cut into strips. Then use a wreath form or bend a wire hanger into a circle shape. The kids can tie the fabric strips around the wreath in whatever pattern they like. Hang on your front door to share your St. Patrick's Day spirit with the neighborhood.


Paper Pots-o'-gold – If the kids in your life enjoy assembling paper crafts, then pots of gold are the perfect thing. You'll need some stencils which are easy to download online. Just get a pot or cauldron, a gold coin, and a rainbow stencil. Then cut out construction paper shapes of each type. Get a glue stick, some crayons, and a few cotton balls for clouds at the end of the rainbow. Then let the kids color each piece and assemble their pot of gold!
Yummy Shamrock Cookies – Why not make a craft you can also eat? Shamrock sugar cookies are a delicious way to craft, and you can even make the cookies ahead of time. Use your favorite sugar cookie recipe and get shamrock cookie cutters. Bake the cookies and let them cool. When the kids are ready, place the cookies on parchment paper along with green icing and fun sprinkles. Watch as they create edible art that you can serve with dinner – that is, if any of the cookies last that long!



Paper Bag Leprechauns – Another cute craft that's simple for kids of all ages is paper bag leprechauns. A brown paper lunch bag can transform into a Leprechaun with some googly eyes, a construction paper hat, and a little paint or marker decoration. Each kid can make their own Leprechaun and then use it as a hand puppet for a puppet show.


Cereal or Macaroni Rainbow Art – With just a little preparation, you can make pretty works of art using food you might already have. You can either dye pasta (shapes like bow-ties, penne, or macaroni work best) or find a box of fruity cereal in rainbow colors. Sort the colors into different bowls and let the kids glue them into rainbow shapes. You can also put out small marshmallows to make puffy clouds for each end of the rainbow.


Paper Plate Hats – What Leprechaun doesn't have a jaunty hat? You just need a paper plate, green markers, some construction paper (in green, gold, and black), and glue to make a fun hat. Let the kids color the paper plate rim and then cut out the center. Then make the construction paper into a cylinder shape and adhere it to the hat. Then add a gold band, black buckle, and voila! A hat any leprechaun would be proud to wear.


Green Glitter Slime – With all of the popularity surrounding slime these days, this craft is sure to be a hit with the kids in your life. Look up a slime recipe online and pick up the ingredients you will need. Then get some green and gold glitter as well as glitter shamrocks in a small size. Mix together and enjoy the squishy holiday-themed fun!


Pipe Cleaner Shamrocks – Bending pipe cleaners into shamrock shapes is a fast and simple craft that doesn't require much prep time or cleanup. Since pipe cleaners can be twisted around each other, with three, you can make an adorable pipe cleaner shamrock. If you want to make it a bit more permanent, some hot glue will do the trick.


DIY Stamps – You might not know that you can make stamps from foam or potatoes, but it's actually very simple! Potatoes are especially easy for little hands to grab and use as stamps. If you're making potato stamps, you'll need several large potatoes, a knife, small shamrock cookie cutters, green paint, and paper to stamp.Push the cookie cutter into the potato, cut around it, and then let the kids paint and stamp! Foam works, in the same way, you need to trace the shamrock shape and use scissors to cut around the tracing.


Funny Headbands – You can add springy little shamrocks to a headband for a hilarious accessory. Pick up some pipe cleaners and cut out little paper shamrocks. Coil the pipe cleaners into a spiral shape, and attach one end to a headband and the other to the shamrock. That's it! Wear your new headgear proudly, and maybe even take some silly photos while wearing your St. Patrick's Day accessories.


Chunky Beaded Necklaces – Another great accessory you can make is a necklace with a string of colorful beads. Since it's St. Patrick's Day, you can select either different shades of green or make rainbow-colored necklaces – let the children choose. All you need is some yarn and beads with larger openings to make them easy for kids to string. Then let them get creative and make their own wearable art.


Golden Playdough – Making playdough at home is a simple and fun craft that's fun for kids of all ages (including you)! There are so many recipes for make-your-own playdough online, you probably already have the ingredients in your pantry as we speak! Pick up some green or gold food coloring, and you'll be just a few steps away from your own playdough. It's extra fun because you get to make it together and then play with it.


Finger-painting Shamrocks – This is a great craft for younger children who aren't ready for some of the more complicated crafts listed above. You just need paper, green paint, and a pair of hands (plus some wipes for cleaning up). Spread out newspaper on the table and pour a generous helping of green paint onto a paper plate. Then the kids can dip their hands in and either paint the shamrocks or make them from combining their handprints on paper.
These are just a few ideas to help you make this St. Patrick's Day extra fun. You can turn the entire day into a celebration by making green foods, trying out a few different crafts, and maybe attending a parade if there is one in your town. Enjoy this St. Patrick's Day, and may it be a lucky one for you and your family!